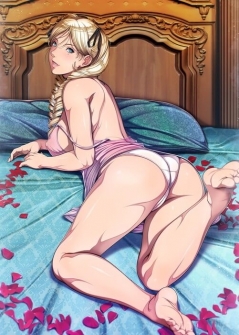 Censored
Online view
SLEEPLESS ~A Midsummer Night's Dream~ The Animation
SLEEPLESS ~A Midsummer Night's Dream~ The Animation
Show ten studio announced the hentai anime "SLEEPLESS ~A Midsummer Night's Dream~" based on the visual novel of the same name by the Empress studio. The release is scheduled for mid-summer 2022. The main character of the story, Ryohei Takamiya, is a student with excellent academic performance and a fairly talented tutor. He goes to the Japanese hinterland to teach Maria, the daughter of a high-ranking official who recently died. Reheya is waiting for acquaintance and hard sex with three incredible beauties:
Mari Mamiya is a widow and now the head of the Mamiya conglomerate. She is the owner of the Black Roses estate, where she lives with her daughter most of the time.
Maria is Mamiya's daughter and heiress. She is beautiful, but not very smart and very spoiled by a rich life.
Ira is a servant and head of the Black Rose Museum.
Year:

2022 Year.

Time:

2ep. 25min.

Source:

Original

Genre:

Big tits, Oral sex, Milf, Bukakke, Ahegao

Translate:

No

Director:

Showten

Studio:

Showten