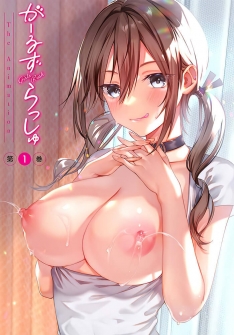 Censored
Online view
Welcome to the boob paradise...
this is an OVA version of the masterpiece of Mr. Suiheisen, the boob master from "COMIC E×E"! You may know him from the anime adaptation of one of his works "Kiss Hug"
If you like juicy, beautiful, big breasts, fantasize that you are also pampered by an older sister, or you like vanilla romantic hentai, then his works are for you... Two OVAs have also been announced:
You have never spent time with a strange girl... but everyone else does, so why not? This is the story of a young girl, and a young boy who looked in on her. She cooks well, she has big tits and she is kind to you... You think that this is already the happiest day, but suddenly... She shows you her big tits and asks you to milk them. Caress, suck and drink milk like a baby when feeding, and then... then it will be even hotter...
In the second OVA, we are waiting for the story of a girl Tokiko, in the past she missed her school trip, and now she has decided to catch up on her own. On the way, she met a guy named Dai, who helped her get to the hotel, but it turned out that the girl forgot to book a room for herself there and Dai begs the owner to let her spend the night in his room. All the time, Dai perceived Tokiko only as a clumsy simpleton, but after visiting her hot spring, he saw in Tokiko a delightful, sexy "girl"...
Year:

2021 Year.

Time:

2ep. 25min.

Source:

Manga

Genre:

Big tits, Oral sex

Translate:

Subtitles

Director:

Studio:

PinkPineapple