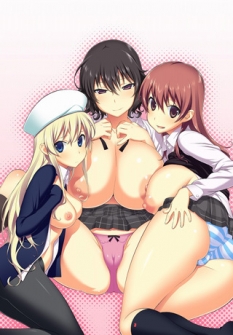 eng subs
Online view
Tenioha! Onna no Ko datte Honto wa Ecchi Da yo?
てにおはっ! ~女の子だってホントはえっちだよ?~
In line with the erotic game by Rootnuko H.
No convoluted plots or deep philosophy here! Just thousands of hot sex with five cute girls! Enjoy a multitude of situations including classic fellatio and nakadashi sex to footjobs, traps, plus more.
Year:

2013

Time:

2ep. 25min.

Source:

Vn Game

Genre:

School, Big tits, Footjob, Oral sex, Virgin,

Translate:

Subtitles

Director:

Rootnuko + H

Studio:

Rabbit Gate, Mary Jane